Classic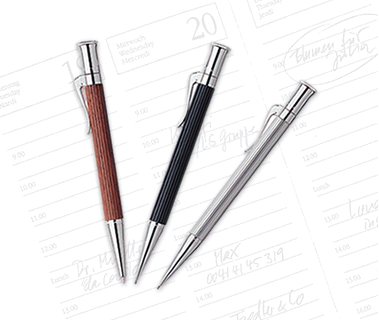 The fountain pens, roller-ball pens, propelling pencils and ball pens in the Graf von Faber-Castell Classic Collection are designed as matchings sets and available in several variants.
All four are available in reddish brown Pernambuco wood, matt black ebony, dark brown grenadilla wood or in a platinum-plated version.
All three precious woods, i.e. Pernambuco which is normally used for violin bows, the very dark ebony as well as the grenadilla wood are extremely hard and durable, and correspendingly difficult to work.
The natural variations in grain and colouring mean that every writing implement made from them is unique.

14 55 40 Classic Pernambuco Fountain Pen (Medium nib)
14 55 41 Classic Pernambuco Fountain Pen (Fine nib)
14 55 43 Classic Pernambuco Fountain Pen (Broad nib)

14 55 10 Classic Pernambuco Rollerball

13 55 30 Classic Pernambuco Mechanical Pencil

14 55 30 Classic Pernambuco Ballpoint Pen

14 55 50 Classic Ebony Fountain Pen (Medium nib)
14 55 51 Classic Ebony Fountain Pen (Fine nib)
14 55 53 Classic Ebony Fountain Pen (Broad nib)

14 55 11 Classic Ebony Rollerball

13 55 31 Classic Ebony Mechanical Pencil

14 55 31 Classic Ebony Ballpoint Pen

14 55 20 Classic Grenadilla Fountain Pen (Medium nib)
14 55 21 Classic Grenadilla Fountain Pen (Fine nib)
14 55 23 Classic Grenadilla Fountain Pen (Broad nib)

14 55 13 Classic Grenadilla Rollerball

13 55 33 Classic Grenadilla Mechanical Pencil

14 55 33 Classic Grenadilla Ballpoint Pen